GREAT DELIVERY TRUCKS FOR RENT
A Simple Process to Rent the Truck You Need
Need additional delivery capacity ? We are here to help! Bush Trucks has a simple rental application process to get you the truck you need. Please contact us to get started !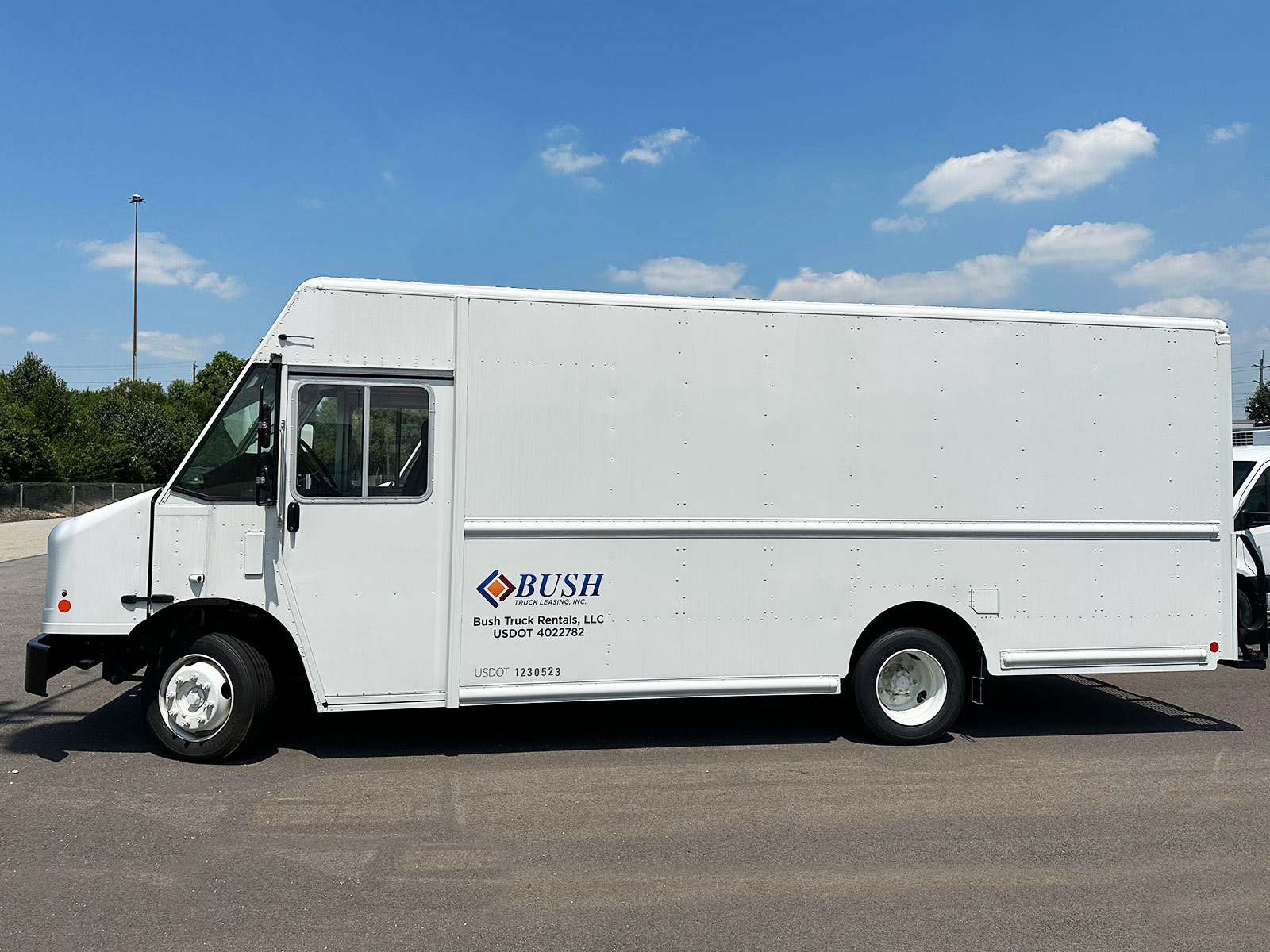 18' STEPVAN – GAS W/SHELVING
Pickup available in Cincinnati, OH
Delivery options available nationwide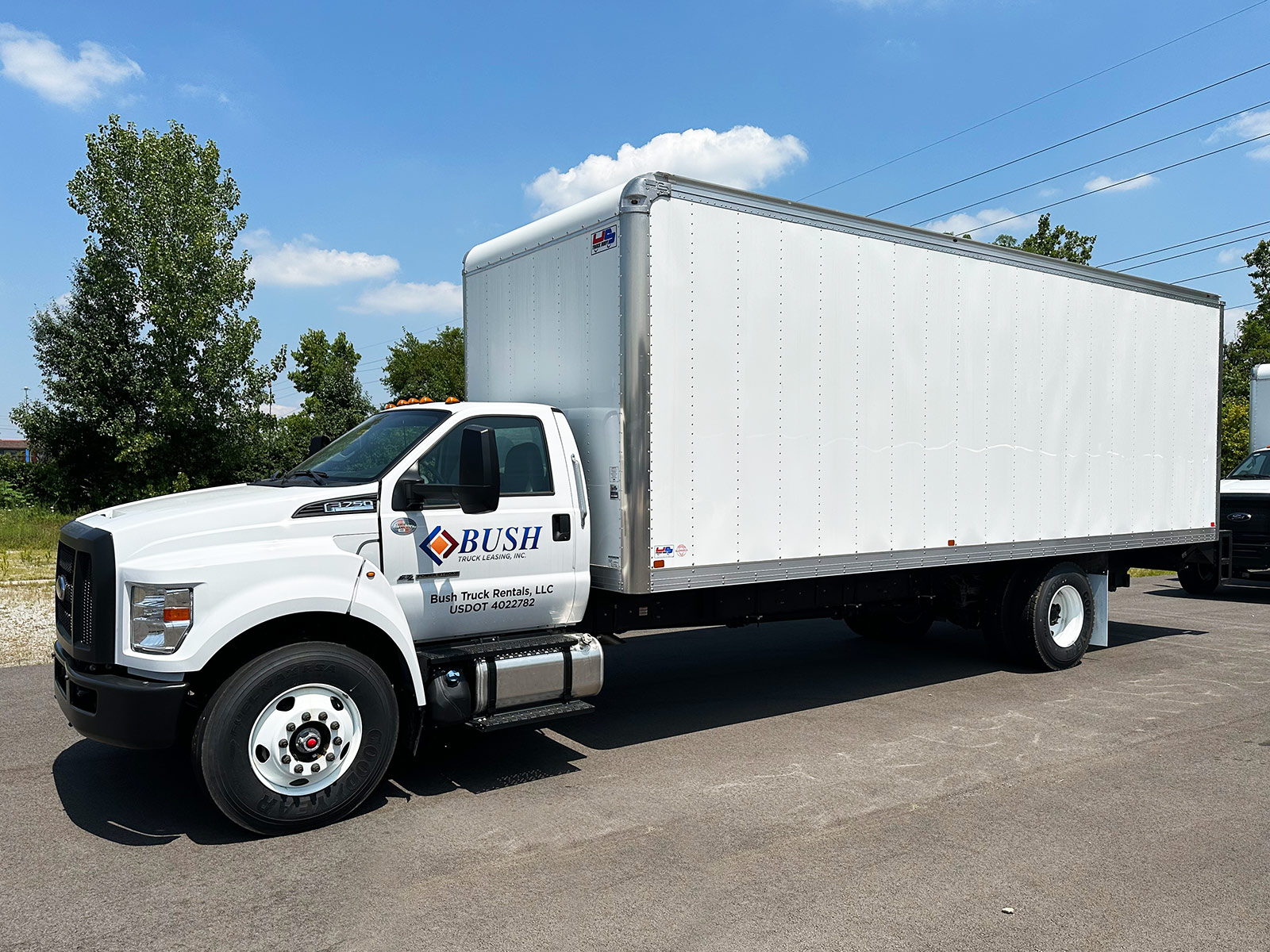 26' STRAIGHT TRUCK – DIESEL W/LIFTGATE
Pickup available in Cincinnati, OH
Delivery options available nationwide
FREIGHTLINER MT45 P1000 STEPVAN – GAS ENGINE
REAR SAFETY SONAR | TREMCO ANTI-THEFT | BLIND SPOT CAMERAS | FOLDING LOWER SHELVES
ENGINE: 6.0L V8 308HP Gas Engine
LENGTH: 18′
MAKE: Freightliner
TRANSMISSION: Allison Automatic Transmission
GVW: 19,000 lbs
FUEL TANK SIZE: 45 Gallon Fuel Tank
WHEELBASE: 178" Wheelbase
CRUISE CONTROL: Yes
STEREO: AM/FM/WB/Bluetooth Stereo
DRIVER SEAT: Hi-back Black Vinyl Driver Seat
REAR WHEELS: Dual Rear Wheels
TIRE SIZE: 225/70R 19.5 Tires
BACKUP CAMERA: Backup Safety Camera LCD Color Monitor
DIMENSIONS: 18'(L) x 93.5"(W) x 85"(H) Body
ROOF: Translucent Roof
BULKHEAD: Bulkhead w/Center Opening Sliding & Locking Door
JUMPSEAT: Bulkhead-mounted Jumpseat w/Highback & 14" Seat
SAFETY EQUIPMENT: Fire Extinguisher, Reflector Kit, First Aid Kit, Backup Alarm
SHELVING: 2 Rows of Full Length Shelving, Lower Shelves Folding
LIGHTING: 4" LED Cab Dome Lighting, (2) 4" LED Lights in Cargo Area
FLOOR: Non-skid tape on Cab Floor Risers and Safe-T Tread in Stepwell
REAR DOOR TYPE: 60" Rollup Rear Door w/2PT Enforcer Slamlock
REAR BUMPER TYPE: 18" Full Width Rear Spring Bumper
FORD F-750 STRAIGHT TRUCK – DIESEL ENGINE
WITH 2500lb STEEL TUCK UNDER LIFT GATE
ENGINE: 6.7L V8 Diesel Engine 270hp
LENGTH: 26′
BODY STYLE: Straight Truck
TRANSMISSION: 6 speed automatic w/OD
GVW: 25,999 lbs
FUEL TYPE: Diesel
FUEL TANK SIZE: 50 Gallon Fuel Tank
WHEELBASE: 281
A/C: Yes
STEREO: AM/FM Stereo, USB
TIRE SIZE: 11R22.5
BACKUP CAMERA: Yes
DIMENSIONS: Body: 26'(L) x 102"(W) x 102"(H)
SAFETY EQUIPMENT: Backup Alarm
UPFIT: 2 rows of Recessed ETRACK
ROOF: Translucent Roof
LIGHTING: LED Cargo Lights
FLOOR: Laminated Hardwood Floor
REAR DOOR TYPE: Roll-up Rear Door
REAR GRAB HANDLES: Yes
Frequently Asked Questions
Who provides insurance on the rental stepvan ?
It is the renter's responsibility to insure the vehicles.
What if I need to keep the vehicle longer than I thought ?
We are flexible in our rental terms and can work with you to extend the rental period as needed.
How is vehicle maintenance handled while being rented ?
Bush Trucks will coordinate with you to have preventive maintenance done on schedule for rented vehicles. This can be done using your current maintenance provider or a provider in Bush's national network.