Isuzu NPR Tilt Cab
New Truck
Engine: 6.6L V8 Gas Engine
•
GVW: 14,500
•
Fuel: Gas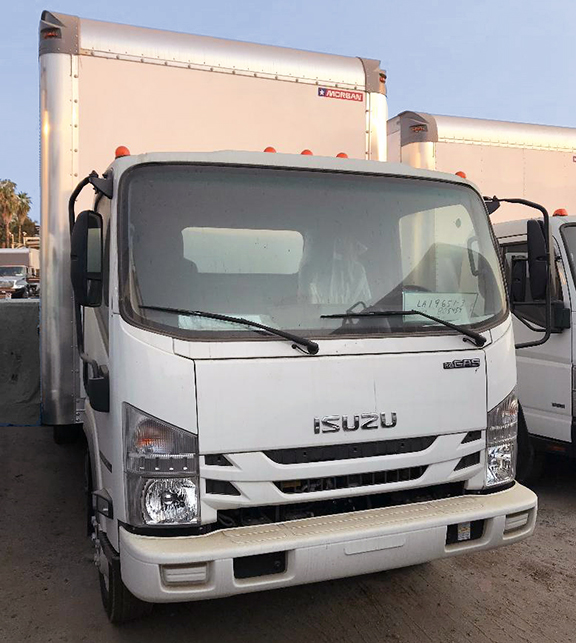 Vehicle Overview
Isuzu NPR Tilt Cab with Railgate
Check out the Isuzu NPR Tilt Cab with a gas engine ! It delivers power, solid cargo capacity, great maneuverability and fuel efficiency ! Click to get a quote or call us @ 1.800.200.0404 ! Diesel option also available. Exterior may differ based on US Truck Body or Morgan Olson body.
Features & Specifications
ENGINE: 6.6L V8 Gas Engine
LENGTH: 20'
MAKE: Isuzu
BODY STYLE: Tilt Cab
TRANSMISSION: Hydra-Matic 6-speed Transmission
GVW: 14,500 lbs
FUEL TYPE: Gas
WHEELBASE: 176" wheelbase
A/C: Cab Air Conditioning
STEREO: AM / FM / CD
DRIVER SEAT: 3-man Seating
REAR WHEELS: Dual Rear Wheels
TIRE SIZE: 225/70R19.5F Tires
DIMENSIONS: FRP Body: 20'(L) x 96"(W) x 96"or 97"(H): Outside
SHELVING: 2 Rows E trac
ROOF: Solid Roof
LIGHTING: Dome Light in Cargo Area
FLOOR: Hardwood Floor
REAR DOOR TYPE: Roll-Up
COLOR: White
ADDITIONAL:
Engine Block Heater
Power Locks & Windows
Mud flaps
FRP Body: 20'(L) x 96"(W) x 96"or 97"(H): Outside Dimensions
GREAT OPTIONS AVAILABLE !
Side Door

Curbside Door or Driver's Side
Sliding or Roll-up

12′ Aluminum Walkramp
Liftgate – 90″(W) x 55″ x 12″ Aluminum Platform with Cart Stops and Above Bed Height Feature


Liftgates are 1 or 2 piece options

Diesel Engine
Warranty Coverage
NEW VEHICLE LIMITED WARRANTY
Warranty Limitations: Time or Mileage, Whichever Comes First
New Truck Warranty

Time in Years

Vehicle Miles

Basic

3

36,000

Engine
Transmission
Drive Axle

5

75,000

Frame Rails

3
5*

36,000
Unlimited*

Corrosion (Rust Through)

4

Unlimited

Roadside Assistance

3
5†

36,000
75,000†
†Tows related to powertrain issues may be covered for up to 5 years or 75,000 miles (whichever comes first).
*After 3 years or 36,000 miles (whichever comes first), labor and parts coverage is 50% for up to 5 years.

PLUS UNPARALELLED EXTENDED WARRANTY COVERAGE!
Our Isuzu N-series Gas units INCLUDE the Isuzu Extended Warranty Plus coverage which provides additional length of coverage on the many components including the engine for 60 months 125,000 miles!
GET A QUOTE FOR THIS TRUCK
SIMILAR TRUCKS
Isuzu Tilt Cab
Length: 16
Feature With Walk Ramp
VIEW DETAILS
Isuzu NPR Tilt Cab
Length: 20
Engine: 6.6L V8 Gas Engine
GVW: 14,500 lbs
Rear Door: Roll-Up
Feature With Walk Ramp
VIEW DETAILS